About Time =)
I would like to thank each and everyone of you that sent squares for my grandsons. I finally got them all put together. The grandsons just love them!!
*note on the youngest one Dalton. When I requested the squares, we did not have him in our custody. He was living with his Aunt in another state.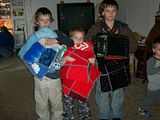 Their mom was really being a pain. She went to the court house and had the charges dropped down to a misdemeanor. So he got out of jail and she was taking him home, but then decided that she wanted to be with him. Had lots of names for her at this point. Don't know what changed her mind again about him, could be the fact that he already hurt her by grabbing her wrists, or locking himself in her truck and not letting her go anywhere.
But she finally realized what she had with our son (my stepson), and now, they have moved to Texas. They left last night. I will sure miss the grandsons.
Yes, there is a little more that I have not posted here about what went on, but I figure it's best for all concerned to not post it. I'm giving her, yet another chance, to start over and not mess it yet again. I pray that the move was the best thing for them all.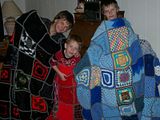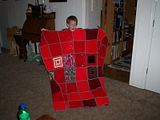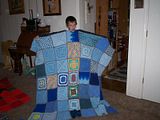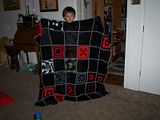 I have been working on my daughter's blanket for several months now. I finally finished it as well. It's very big. King Size Big.. lol. Had to have our son and daughter's boyfriend to hold it up. They are both near 6', and there is still some of it on the floor. 3x5 squares. One row is right side up, and the next row is upside down. This way, you don't have to worry about which end is up.. LOL
I really hope all these images are clickable.. lol
Thank you all again for helping with squares.
I really love the people from Crochetville!