Woolie Swap
I got a package today!!!!!!!!!
It's from my swap partner AndiM. I was so excited to open it. Very pretty box too. I didnt want to rip it in any way. Was very surprised to see everything in there. Andi... your a great swap partner (((((Crochet Hugs)))))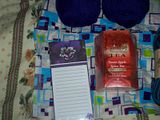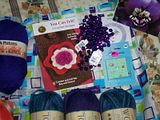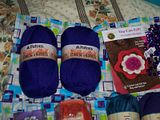 Here is a list of the items that was in the box.
2 Skeins of Paton Wool in "That's Purple"
2 Skeins of Lions Brand Wool in "Ocean Blues"
1 Skein of Lions Brand Wool in "Purple"
A "You Can Felt It" booklette <--- going to really need this.. THANKS
2 purple Mardi Gras necklaces
Magnet with my Intial on it. "T"
Cute tape measure with teacups on it. Teapot for the holder.. lol
note pad w/purple pansy and butterfly
Box of "Sweet Apple Spice Tea" from Mount of Olive Treasures. Sure smells yummy.
Note from my wonderful swap partner Andi!
WHEW.. that is a lot. I loved this exchange. It was fast..lol